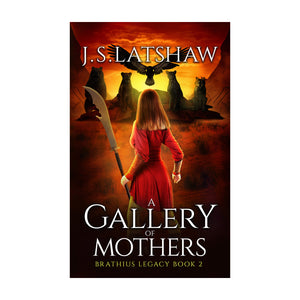 A Gallery of Mothers (Brathius Legacy Series) - Volume 2
Sale price Price $24.99 Regular price Unit price / per
The highly anticipated sequel to The Threat Below.
---
Unearth Ourselves
---
Mountaintop, the last known refuge of humanity, faces a new cataclysm, and only exiled Icelyn Brathius can stop it. But to do so, she must give up all she loves and journey to an accursed, legendary tower in the middle of an unforgiving desert. Can she endure the nightmares and secrets she confronts–and accept what they teach her about herself?

Excavate Our Past
---
The end of the world happened in slow motion, and should have been avoided a hundred times. Learn the truth about the aftermath of Sean Brathius' doomed experiment, and how those tragedies and betrayals forged the foundation of today's volatile and dangerous world.

Fear Our Future
---
An unprecedented horror arises Down Below–a movement, a fervent faith, and a deadly vision for the world. Can the Anaghwin and what's left of humanity survive the terrors that will be unleashed? Will they even want to if they can?