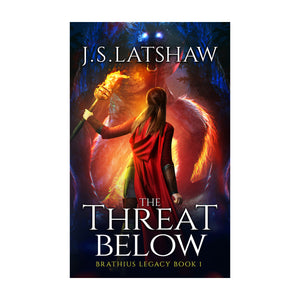 The Threat Below (Brathius Legacy Series) - Volume 1
Sale price Price $24.99 Regular price Unit price / per
She heard the legends. She knew the history. But nothing could have prepared her for what she found.
---
Three hundred years ago, a lethal and mysterious threat arose and pushed humanity to the brink of extinction. Now, a small remnant - the descendants of the few survivors who escaped the massacre below - lives above the clouds, on the top of a mountain. But now their water supply is being poisoned. Something down below is trying to kill them. Now an expedition, including seventeen year-old Icelyn Brathius, must descend and face the horror that wiped out civilization centuries ago.
The danger is closer than you think. The shocking true nature of the Threat Below.
---
As Icelyn faces dangers in a world humans are not meant to survive, she learns that not everything is as it seems, uncovers an ancient revelation, and faces a choice that will change the fate of everyone above and below the clouds. Will Icelyn be strong enough to survive - and bear a terrible secret?
Join Icelyn Brathius as she leaves everything she has ever known to journey to the place no one was ever supposed to go
Read this page-turning adventure today.
---
• Foreword INDIES Book of the Year Finalist for Young Adult Fiction• Reader's Favorite Gold Medal Winner - Young Adult Action